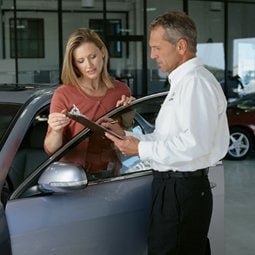 Every car owner dreads the day that they need to bring their car in for a repair. The stress and worrying that surrounds finding a good mechanic that will get you back on the road at a reasonable price is enough to drive a person mad. That's why we aim to make this process as seamless as possible. When you bring your vehicle to our Haverhill Ford dealership, you're getting the guarantee that we'll leave you smiling.
The highly trained technicians on our auto repair team are trained to handle anything you throw at them, from the smaller jobs all the way to a more intensive repair. They take the time necessary to assess and diagnose the problem, so they can fix it right the first time.
We'll get you back in fast lane quick, because we know you're busy life doesn't take a backseat as a result of your car problems!